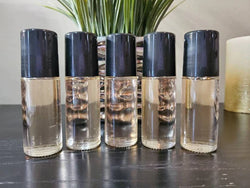 BURB104 Weekend Body Oil - Women
Our Body Oil is pure grade "A" uncut. No Additives or Dilutions and Alcohol Free.
SIZE: 1oz (30ml)
DESCRIPTION:
The violet-like, fruity tonalities of mignonette, tart Mandarin orange and the mild, peppery nuances of sage intermingle with juicy nectarine, fragrant peach blossom, blue hyacinth, rose hip, earthy iris, red cyclamen and violet root. Warm musk, desert sandalwood and resinous cedar blend harmoniously to unite and enhance this fragrant accord.
Top -Mignonette, Mandarin orange, sage
Middle -Nectarine, peach blossom, blue hyacinth, floral
Bottom -Musk, sandalwood, cedar
ESSENTIAL OIL:
GURJON BALSAM OIL
ABOUT THE BODY OILS:
Since our oils do not contain any alcohol or water, the problem of evaporation does not exist. As long as the oils are kept away from extreme heat and sunlight, they will last for a very, very, very long time. The only thing that changes is the color. Some oils even get richer in scent-which is called marrying or maturing