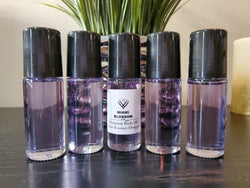 ESC102 Purple Miami Blossom Body Oil - Women's
Our Body Oil is pure grade "A" uncut. No Additives or Dilutions and Alcohol Free.
SIZE: 1oz (30ml)
DESCRIPTION:
Promises a "colorful summer cocktail" dominated by the accord of sweet, juicy and zesty pineapple. The uniqueness of the composition is guaranteed by a combination of a luminous bouquet of white flowers like tiare and sparkling and fresh fruity aromas. Sandalwood and musk in the base give the warmth of the whole creation. "The result is a fresh/cheerful vision of femininity conveying energy, light and juicy attributes identified as a classic
ESSENTIAL OIL:
ABOUT THE BODY OILS:
Since our oils do not contain any alcohol or water, the problem of evaporation does not exist. As long as the oils are kept away from extreme heat and sunlight, they will last for a very, very, very long time. The only thing that changes is the color. Some oils even get richer in scent-which is called marrying or maturing
DISCLAIMER:
Name trademarks and copyrights are properties of their respective manufactures and/or designers. True Essence Designs has no affiliation with the manufactures or designer. The purpose of this description is to give the customer an idea of scent character and not to mislead. Any references to brand names are made strictly for comparison purposes only.