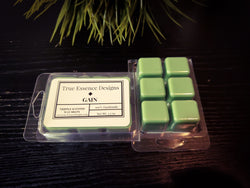 Gain Triple Scented Wax Melts
SIZE: 3.5 oz (105ml)
Description:
Fresh citrus blossoms mingle with forest fern and soft wood tones in this classic detergent fragrance. A summer floral accord adds softness as the base of clear musk creates substantial.

Top - orange
Middle - floral, citrus blossoms, wood, fern
Bottom - musk
Our wax melts are all hand poured in small batches in ensure you get the best quality every time! They are a great option for those who prefer a wick-free experience. They are made with a blend of soy and paraffin wax to ensure a strong fragrance that will fill your home with fragrance.
How to Use:

Break off 1 or 2 cubes depending on the size and capability of your wax warmer. Let melt and enjoy! When you are ready to change your fragrance, place top dish from your warmer in the freezer until the wax shrinks and you can pop the wax out.