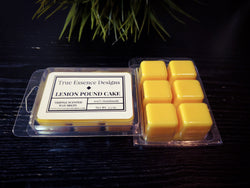 Lemon Pound Cake Triple Scented Wax Melts
SIZE: 3.5 oz (105ml)
Description:
The mouth-watering scent of freshly made Lemon Pound Cake evokes memories of summer picnics and kitchens filled with love. Bright lemon peel and juicy lemon give this bakery fragrance its signature citrus kick. Butter, sugar, and vanilla finish off this realistic gourmand cake fragrance.

Top: Lemon, Lemon Peel
Middle: Butter
Base: Cake, Vanilla, Sugar

Our wax melts are all hand poured in small batches in ensure you get the best quality every time! They are a great option for those who prefer a wick-free experience. They are made with a blend of soy and paraffin wax to ensure a strong fragrance that will fill your home with fragrance.
How to Use:

Break off 1 or 2 cubes depending on the size and capability of your wax warmer. Let melt and enjoy! When you are ready to change your fragrance, place top dish from your warmer in the freezer until the wax shrinks and you can pop the wax out.