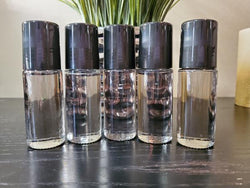 LV569 METEORE Body Oil - Men
Our Body Oil is pure grade "A" uncut. No Additives or Dilutions and Alcohol Free.
SIZE: 1oz (30ml)
DESCRIPTION:
The scent that will reignite your senses and energize your spirit like nothing else. From the moment you apply it, the spicy mandarin scent will awaken boundless energy within you, giving you a zing like no other.
This magnetic fragrance has a unique aesthetic that evokes power and light. Imagine dazzlingly flamboyant clouds in the sky, capturing your attention and taking your breath away with their sheer beauty. That's the magic of Le Meteore.
Includes Sicilian mandarin to infuse the perfume's heart with ethereal freshness, which resonates as it comes into contact with a trio of peppers. To complete the enchantment, Java vetiver reveals its noblest facets — at once fresh, earthy, and ambery.
ABOUT THE BODY OILS:

Since our oils do not contain any alcohol or water, the problem of evaporation does not exist. As long as the oils are kept away from extreme heat and sunlight, they will last for a very, very, very long time. The only thing that changes is the color. Some oils even get richer in scent-which is called marrying or maturing
DISCLAIMER:
Name trademarks and copyrights are properties of their respective manufactures and/or designers. True Essence Designs has no affiliation with the manufactures or designer. The purpose of this description is to give the customer an idea of scent character and not to mislead. Any references to brand names are made strictly for comparison purposes only.