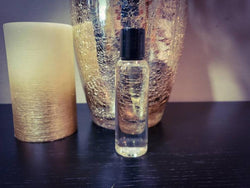 Peppermint Scented Home Fragrance Burning Oil ~ Diffuser Oil
SIZE: 2oz (60ml)
DESCRIPTION:
Sparking clean and refreshing describe this classic blend of peppermint sticks along with light nuances of warm vanilla.
Top -Eucalyptus
Middle -Peppermint
Bottom -Vanilla
Fill your home or office with your favorite premium burning oil scents!!
HOW TO USE:

Choose your favorite scent, add tealight to the bottom of the oil burner. Pour 2 caps of the burning oil onto the top of the burner.
CAUTION:
Do not leave open flames and active heat units unattended and always use safely and with caution. Keep out of reach of children.
THESE OILS ARE FOR BURNING ONLY:
If you need an oil warmer please see FRAGRANCE WARMER section. Not made to wear on the skin! If you are in need of body oil, see BODY OILS section!!