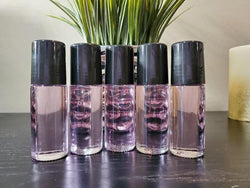 PH751 Paris H Body Oill - Women
Our Body Oil is pure grade "A" uncut. No Additives or Dilutions and Alcohol Free.
SIZE: 1oz (30ml)
DESCRIPTION:
Succulent melon, sweet apple and juicy peach intermingle with refreshing freesia, delicate mimosa, sweet jasmine, lily of the valley, powdery lily and fragrant tuberose. Warm musk, aromatic sandalwood, soft oakmoss and provocative ylang ylang blooms blend harmoniously to unite and enhance this fruity, floral, fresh fragrance.
Top -Melon, apple, peach
Middle -Fressia, mimosa, jasmine, lily, tuberose-
Bottom -Musk, sandalwood, oakmoss, ylang ylan
ESSENTIAL OIL:
ABOUT THE BODY OILS:
Since our oils do not contain any alcohol or water, the problem of evaporation does not exist. As long as the oils are kept away from extreme heat and sunlight, they will last for a very, very, very long time. The only thing that changes is the color. Some oils even get richer in scent-which is called marrying or maturing