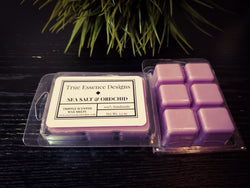 Sea Salt & Orchid Triple Scented Wax Melts
SIZE: 3.5 oz (105ml)
Description:
Our Sea Salt and Orchid wax melts is a smooth and elegant blend of soft floral notes with salty highlights. You'll notice crisp ozonic notes of sea salt and calming notes of jasmine, lily of the valley, and tonka bean take hold. 
Top: Sea Salt, Ozone
Middle: Jasmine, Lily of the Valley, Green Leaves
Base: Wood, Tonka Bean

Our wax melts are all hand poured in small batches in ensure you get the best quality every time! They are a great option for those who prefer a wick-free experience. They are made with a blend of soy and paraffin wax to ensure a strong fragrance that will fill your home with fragrance.
How to Use:

Break off 1 or 2 cubes depending on the size and capability of your wax warmer. Let melt and enjoy! When you are ready to change your fragrance, place top dish from your warmer in the freezer until the wax shrinks and you can pop the wax out.